Leo Megamenu Module
Prestashop module to build professional megamenu
---
Created: 06/01/2017
latest Update: 06/01/2021
By: Leotheme
First of all, we would like the thank you for using our work.
Leotheme - a website where you can find the best Prestashop theme and Extensions as well. We are proud of our professional themes, extensions. With years of experience working on Opensource, we have created number of great extensions for both Joomla and Prestashop like: Leo Prestashop Framework, Leo Prestashop Megamenu Module ...
This is Modern and Functional menu for your store. Help your customers in an easy and friendly way to navigate between pages. Easy-to-use menu that does not have to add each category because the entire menu is generated automatically. Menu is an advanced solution for your store so you can add your own links or use the auto links for cms links. Menu running on a mobile device at any resolution. In the price of the product is updates and support during 1 year. Therefore, you can always ask us for help. The module will help you in obtaining higher revenue through an efficient and user-friendly navigation. You can view your pictures so that the shop will be more friendly and readable.
Leotheme is also famous for custom work, if you have trouble or help with your website, coding, .... you can find us then we will support you or give you suggestions.
Download and Install
---
Download
Currently, the module will only be included in the pretashop theme that support the module by default. So you have to download the theme package then the module will be there for you to use.
Install
You can install the module as any other pretashop module. If you are new to prestashop, you can check How To Install Prestashop Module Video Tutorial
Publish the module
---
After install the module successfully, go to Modules then search Leo Megamenu module, enable the module then access its configuration panel.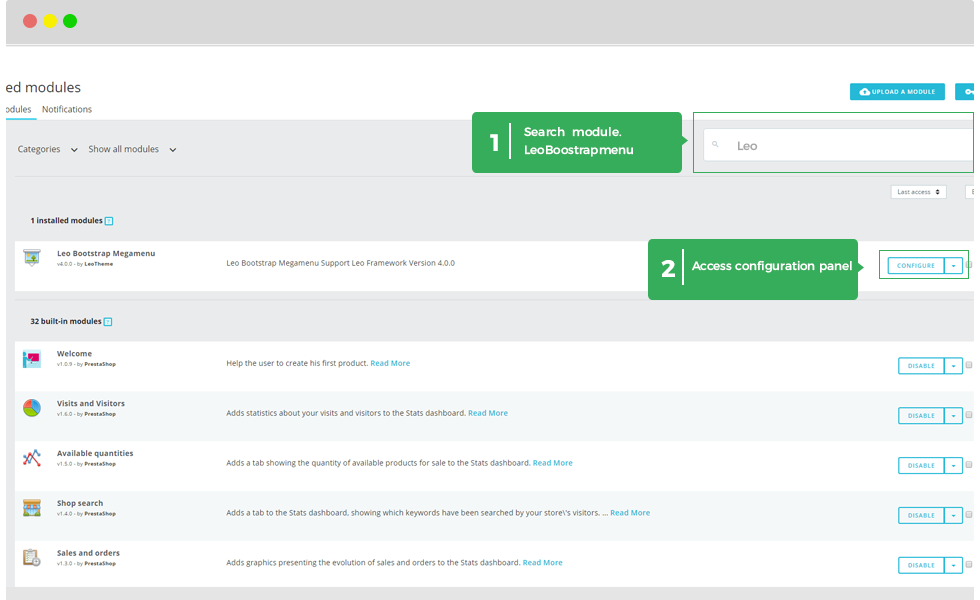 Getting Support
If you are unable to find your answer here in our documentation, please go to our forum and post up a new topic with all the details we need. Please be sure to include your site URL as well or send us an email.
Our support scope
Our support covers configuration, building site as demo, trouble using any features, and bug fixes. We don't provide support for customizations or 3rd party extension.
Our support time
We try our best to monitor the email around the clock, however, this is not always possible due to different time zones. We will try to reply you as fast as we can.
Our working time is 8.00 AM - 5.30 PM, Monday to Friday (UTC+7). So if ask for help in the weekend, you may have to wait a little bit for support and please be patient.
Thank you for reading!
We hope you can create the best website with our themes & modules.